From the very start Hudson Law can help, starting with Step 1:
Step 1 Draw an idea on a paper napkin.
Step 2 Share with a friend, who asks lots of questions. Re-draw.
Step 3 Spend a little time and money to build a prototype.
Step 4 Give a name or put a logo on the prototype.
Step 5 Show the prototype to potential customers for feedback.
Step 6 Write a business plan
Step 7 Create a team
Step 8 More market feedback. Re-design
Step 9 Raise money.
Step 10 Market and launch.
With some luck and persistence,
Goal 1 Customers respond and love you
Goal 2 Sales and revenue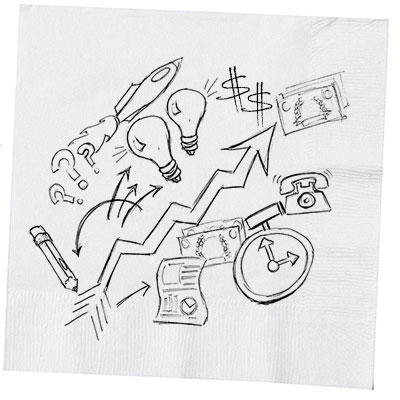 Between Steps 2 and 4, Hudson Law helps design the legal protection so that the napkin sketch can becomes a money making business.
If the innovation is an idea that needs patent protection, Hudson Law will recommend patent counsel with the appropriate technological background whom you can interview.